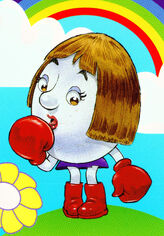 Dora is one of the Yolkfolk.
Characteristics
Edit
Dora can easily be spotted by hair brown hair, or her purple skirt. She, like Daisy, has taken to wearing makeup, too.
Personality
Edit
Dora, being a young member of the Yolkfolk, is more likely to want to play or relax than the other members. She has a sweet tooth however, and would like to own a sweet shop when she grows up.
Abilities
Edit
Dora's main ability is to get in the way and be a target for Zaks' evil spells. Apart from the famous Yolkfolk somersault, it's unknown if she has any physical abilities.
Appearances
Edit
Dora has appeared in many Dizzy games, including:
Ad blocker interference detected!
Wikia is a free-to-use site that makes money from advertising. We have a modified experience for viewers using ad blockers

Wikia is not accessible if you've made further modifications. Remove the custom ad blocker rule(s) and the page will load as expected.