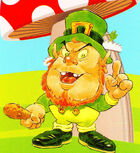 Shamus the Leprechaun is, unsurprisingly, a leprechaun.
Characteristics
Edit
Shamus prefers to don traditional Irish leprechaun garb, green clothes, a golden buckle on his hat, and of course, a sheleighleigh for solving his problems.
Personality
Edit
In Dungeons 'n Dragons terms, Shamus would be termed as "chaotic neutral". He appears to work for himself instead of Zaks, but that doesn't mean he's friendly towards the Yolkfolk. If Dizzy wants his help, or even just wants him to get out of the way, it's going to take payment!
Abilities
Edit
Shamus appears quite sturdy, but has a weakness for golden clovers. His sheleighleigh can solve most of his problems, however.
Appearances
Edit
Shamus has appeared in the following games:
Ad blocker interference detected!
Wikia is a free-to-use site that makes money from advertising. We have a modified experience for viewers using ad blockers

Wikia is not accessible if you've made further modifications. Remove the custom ad blocker rule(s) and the page will load as expected.